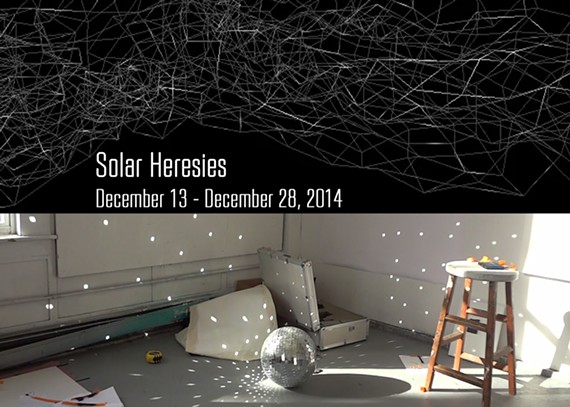 "Solar Heresies," a group show curated by Meredith Kooi in collaboration with John Lloyd Hannah, draws on the cosmological and the heretical to explore the spectral nature of being. Artists featured in the show include morgan alexander, Brett Ian Balogh, Laura Bell, Andrew Boatright, Ian Cone, Stephanie Dowda, Nikita Gale, Corkey Sinks, and Michael E. Stasny.
Accompanying exhibition catalogue features essays by curators, poetry by Justin Andrews, and images and statements by artists.
Opening reception: Saturday, December 13 – 6-9 PM
Performance featuring Outer Gods and Meredith Kooi: Sunday, December 21 – 7 PM
Show dates: December 13 – 28
91 Broad St SW
Atlanta, GA 30303
Gallery Hours: Thursday – Saturday – Noon to 6 PM
Images:
Brett Ian Balough, Chora, 2009 (top)
Nikita Gale, Disco Clouds, 2013 (bottom)
---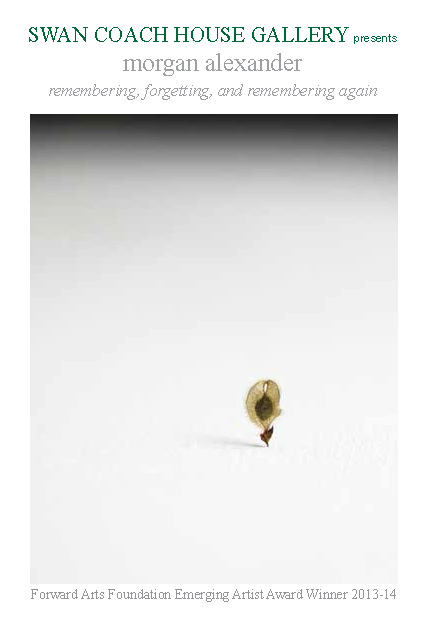 The Swan Coach House Gallery and The Forward Arts Foundation are pleased to present the work of Morgan Alexander, winner of the 2013-2014 Emerging Artist Award. Also presented are works by the four finalists. The Awards are given annually by the Forward Arts Foundation to the candidates recognized as the most dynamic emerging artists in the Atlanta area. The title of Alexander's debut solo exhibition, "remembering, forgetting, and remembering again," contemplates ideas of impermanence, memory, and the passage of time. His delicate installations of collected materials and gauzy constructed 'drawings' evoke a quiet sense of place and the search for beauty in ordinary things. Employing an ethereal vocabulary and limited color palette, he incorporates natural found materials along with lead, steel, glass, salt, wax, and paper collage elements. The works on view explore intersections between the physical body and the soul, and the interconnections between ourselves and the world around us.
This exhibition is sponsored by Mickie Keough and Eileen Millard
Opening reception: Thursday, April 17 – 6-9 PM
Artist talk: Saturday, April 26, 11 AM
Show dates: April 17 – May 30
3130 Slaton Drive NW
Atlanta, GA 30305
Gallery Hours: Tuesday – Saturday – 10 to 4 PM
---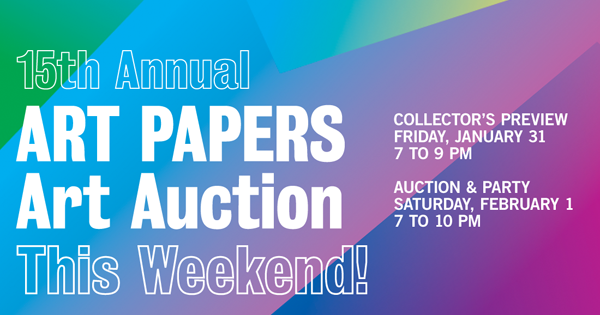 Featuring an impressive showcase of work by 250+ famed and emerging artists from around the world, proceeds from the silent auction benefit the award-winning programs of ART PAPERS. This is the signature art party that kicks off Atlanta's art year.
Enjoy a well-stocked cash bar, complimentary bites by: Fritti, Sotto Sotto, Escorpión, Campagnolo Restaurant & Bar, Henry's Midtown Tavern, Sundial Restaurant, Bar & View, Bad Dog Taqueria, and Tin Drum Asiacafé.
A well-stocked Cash Bar featuring libations from: Jack Daniel's Single Barrel Select Tennessee Whiskey, Finlandia Vodka, Southern Comfort, Herradura Blanco Tequila, Cupcake Vineyards, Red Bull, and SweetWater Brewing Company. ATM available on site.
DJ Tim DeGroot of Rare Form Crew spins all night. Join emcees Jaye Lish and Edie Cheezburger in our photo booth and find out what it's like to grace the cover of ART PAPERS magazine.
First Auction section closes at 8:30 pm.
Collector's Preview: Friday, January 31 – 7-9 PM
Auction: February 1 – 7 – 10 PM
Event Location:
Mason Murer Fine Art
199 Armour Drive
Atlanta, GA 30324